Your new business destination awaits
Interested parties will need to make a submission to the EOI via Council's e-tendering portal.
Shellharbour City Council is seeking expressions of interest to lease Stage One of the Shellharbour Airport Aviation Business Park located at Shellharbour Airport in NSW, just over an hour's drive south of Sydney.
Shellharbour Airport is serviced by Link Airways, which provides regular passenger services (RPT) between Shellharbour Brisbane and Shellharbour Melbourne (Essendon Fields).
Stage One of the Aviation Business Park covers 20,000m2 of cleared land and is suitable for a range of aviation related commercial uses including aircraft maintenance, pilot training and charter operations and more.
Shellharbour is home to a stunning coastline, featuring National Surfing Reserve, Killalea, and new The Waterfront Shell Cove precinct and its Shellharbour Marina. Set under the backdrop of the lush Illawarra Escarpment, west of the coast you will find picturesque bushland, rolling pastures and rainforest.
Shellharbour's ideal South Coast location, natural beauty and vibrant community spirit offers the perfect blend of work and play. No wonder it's one of Australia's fastest growing cities!
Stage One sites are airside and located accessible by road, with direct frontage onto taxiways and two sealed runways.
All land is zoned SP1 and includes any development that is related to aviation under Council's Local Environmental Plan (LEP).
Stage One is part of 5ha Aviation Business Precinct, with additional allotments to be released in Stage Two, opening an additional 30,000msq of land.
Key Features
Code 2 category runways
Airfield space available for lease and hanger development
Customisable land options to suit all development needs
Within close proximity to Shellharbour City Centre
Links to rail transport and the M1 Motorway
Interested parties will need to make a submission to the EOI via Council's e-tendering portal.
Stage 1: Concept Design 01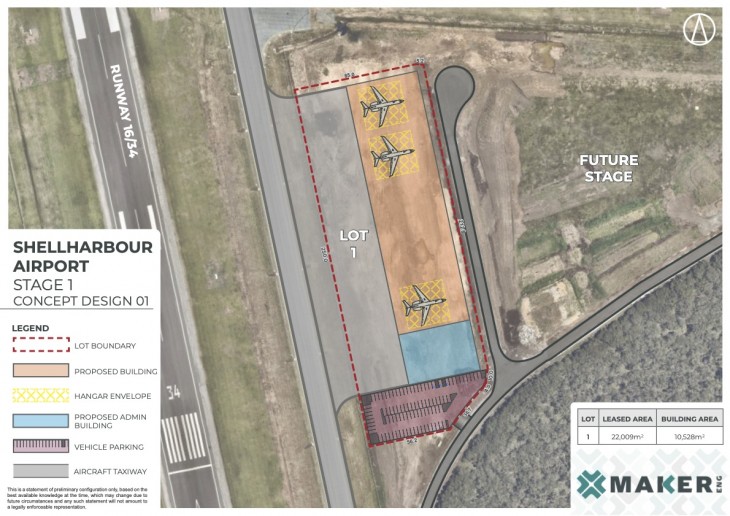 Stage 1: Concept Design 02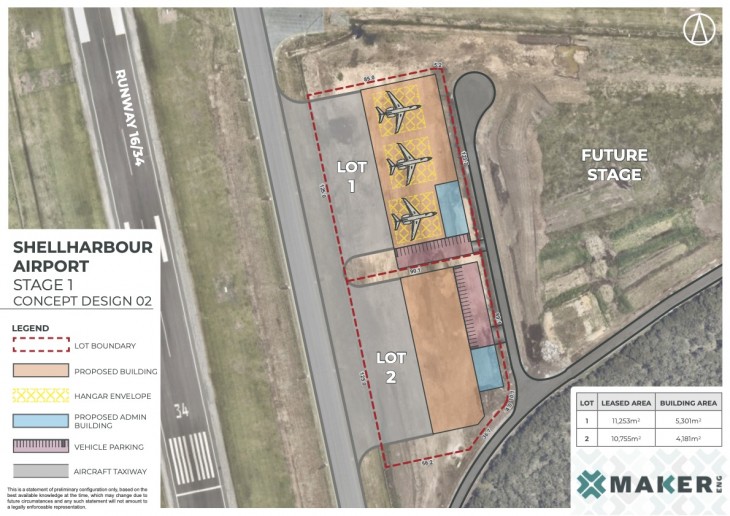 Stage 1: Concept Design 03